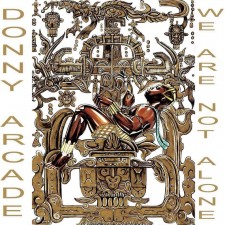 Donny Arcade's new album from Pantheon Elite Records seeks to expose taboo topics such as, alien abduction, genetic modification of humans by ancient astronauts, suppressed archaeology, forbidden knowledge, false flag attacks, government corruption, and global agendas. Donny Arcade and his team of truth seekers deliver each breathtaking bar in such a way as to relay these messages with a positive twist that leave the listener feeling empowered. "We Are Not Alone" is in stores now.
Coral Springs, FL, August 8, 2016 (Newswire.com) - ​Prior to the release his debut album, Donny Arcade released 5 singles. The titles were Anunnaki, Emerald Tablets, 3600, Zzzz, and False Flaggin. Donny wanted to give his potential fans a taste of the quality he could produce. Donny wanted everyone to know that they were going to get their money's worth. His gamble was a success. His YouTube videos have a combined 400,000 views and tons of positive comments. Donny is also making waves on popular music streaming sites like Spotify, with over 15,000 spins in two weeks.
Donny managed to put together and incredible pool of talent. The album boats features from Layzie Bone of Bone Thugs, pop singer Anjolique, rapper Starfoxxx, opera singer Irma Gloria, radio host Josh Reeves, and Truth Seeker 4biddenknowledge. Donny also recruited the musical genius of multi platinum producers, Gorilla Tek AKA Tony Castillo and LT Moe formerly of Aftermath.
Donny Arcade and his team of truth seekers deliver each breathtaking bar in such a way as to relay these messages with a positive twist that leave the listener feeling empowered.

Jim Barnes, Director of Media Relations
Donny has just released an amazing HD music video for his song entitled "Anunnaki". This music video is slated to play on MTV, BET and Revolt. Who are the #Anunnaki? According to Ancient Alien Theory, the Anunnaki, and other alien groups, came to Earth and seeded the human race in many variations. Physical evidence of ancient astronauts is found throughout the planet, leading one to conclude that different races visited here at different periods in Earth's history, or the same aliens return and set up various programs (civilizations) in which they could remain and experience. These would include: Middle East, Egypt,India, China, Greece, Mesoamerica, other Ancient Civilizations.
A Personalized VEVO page is also being constructed for the artist. The power of social media and genius marketing techniques has changed the way independent artists can gain exposure.
Sunday August the 7th 2016 was the official album release. Once again Donny arcade and his team did not disappoint. They came up with an ingenious offer for all new album purchasers. They have acquired a significant sponsor and have put together an amazing free fan package.
The 1st 1,000 purchasers of the album will receive a free vacation package to a condo resort at 3500 possible destinations, 7 inch Wifi Tablet, High power ear buds, $300 from Restaurant.com, One T-shirt and an autographed poster.
The requirement to receive the fan package is simple
1. Screen shot the purchase of the Album
2. Post the pic on instagram, facebook or twitter and hashtag #WeAreNotAlone
3. Register on DonnyArcade.com so that the fan package can be sent out.
The album has been released August 7th on all digital distribution channels.
Donny's message to his fans: Help us change the world! Make this promotion go viral. Share it with everyone. Let's bring consciousness back into music!!!
iTunes: http://apple.co/2aVZ1gp
Amazon: http://amzn.to/2aWOiUz
GooglePlay: http://bit.ly/2b3w02h
Donny Arcade and Pantheon Elite Records are creating a whole new genre of hip hop. Their current following is already in the tens of thousands with no major distribution. What they have been able to accomplish in such a short time is astonishing. Donny's message to his fans: "Help us change the world!"
Source: Pantheon Elite Records
Share: