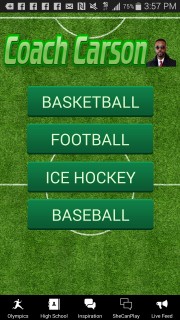 The long awaited Coach Billy Carson mobile app For Android has finally hit the GooglePlay store. No everyone can get the real time sports updates on the NBA, NFL, MLB, MLS, NHL, NCAA, NCAAW, NCAAF, WNBA and more all in one place.
Coral Springs, Florida, April 20, 2015 (Newswire.com) - Coach Billy Carson has over 14 years coaching experience in Junior Olympic, AAU, USSSA, Jr NBA, High School and NCAA sanctioned basketball. Mr. Carson is a founding member of the YMCA in Weston, FL. Mr. Carson is a business magnate that currently owns several corporations in the state of Florida and several in other states. Most recently Mr. Carson made international news when he launched his non profit space agency in south Florida.
For decades Mr. Carson has tweeted, blogged, facebook'ed and instagram'ed sports for the last 15 years. In that time Mr. Carson has built a huge following of sports fans that simply cannot get enough of his incredible real time sports coverage. Many sports fans have come to rely on this steady stream of content so he decided to give them everything they need inside one location.
Taking over the world one click at a time!

D'Andrea Harris, COO
The "Coach Billy Carson" mobile app allows for ease of use and gives the user access to "Real Time Sports Updates" from The NBA, NFL, MLB, MLS, NHL, NCAA, NCAAW, NCAAF, WNBA, Golf, Olympics and Sports News from around the globe. If you are involved in fantasy football, fantasy basketball or and fantasy sport then you need this mobile app. Get real time updates on injuries, starting lineups, last minute schedule changes. score updates and so much more. Billy Carson has inspired a mobile app that a true sports fan will enjoy. Nothing is better than having all of this content in one place with easy access.
Another amazing release by Pantheon Elite Records...
Share: