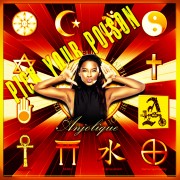 A vice of raw emotion and a life with so many possibilities, Anjolique found her key to self and expression through a collection of trials and its experiences. Her 1st single entitled "Pick Your Poison" is destined to be a hit!
Fort Lauderdale, Florida, USA, December 30, 2014 (Newswire.com) - A vice of raw emotion and a life with so many possibilities, Anjolique found her key to self and expression through a collection of trials and its experiences. "I am protected by music, entertainment, and the embodiment of the arts." Her music showcases a broad range of confusion on top of cluttered thoughts, party hits, and happy, love songs. Born and raised in the city of Chicago and surrounding suburbs, Anjolique felt outcasted being the "smart girl" with a wide range of affiliations. "I had no set clique. I ate lunch with the cheerleaders, track stars, and the Goths. It just depended on the day." In every attempt to learn how to sing she began recording over radio stars like Ashanti, Whitney Houston, Destiny's Child, and Aaliyah with her karaoke machine. Anjolique quickly gained a knack for notes and harmonies singing in her church choir, although, it was said that she needed to "find her own voice". When she did, in 2003, it was on a local album "Jackin' for Beats".
She sang and rapped to Eminem's Cleaning out my Closet. "I tell anybody I was a rapper WAY before I was a singer." High School was where she both lost herself and found herself in what would eventually become her music journey. "Music has a way of depicting your mood. It can give you a mood, change it, or emphasize it. At least that's what it did for me." By this time she had already learned to play clarinet, alto saxophone, and bass keys. In college she began to reinvent herself and look for ways to entertain in any venue she could. By the time she graduated Anjolique had performed her own music on every local stage in the WV tri-county area, sang background with Lupe Fiasco at 2008 Lollapalooza & K-Jon a numerous times in Chicago, became known as a spoken word artist in multiple states, built a catalogue that expressed the different facets of her love for music, vocally coached perspective artists for Good Music, and more; all while staying consistent in her local church choir and outreach programs.
Love is the joy of the good, the wonder of the wise, the amazement of the Gods. Plato - Pantheon Elite Records

Billy Carson, Chief Operating Officer
Determined to become the best she could, she recorded quite a few tunes in the West Virginia State University radio station as she was unable to afford (or find) a studio in WV. There she taught herself how to use such programs as Acid and Sony Sound Forge while over actively seeking her degree in pre-medical sciences. Moving to Florida was a brave endeavor. Anjolique began performing multiple times a week on stages from public South Beach to private concerts in Naples. She took each opportunity to perform everywhere she traveled. This included NYC's Village Underground, Atlanta's Apache, Chicago, Tampa's USF, and Los Angeles. That's when Anjolique's ability to capture an audience of any size became evident. Her indistinguishable drive, impeccable pen, and sincere personality put her in situations to write for multiple artists on IMG/Strong Arm, and Poe Boy.
She's opened up for legendary artists like Denise Williams, hosted comedy shows and charity events, sang the national anthem at nationally televised sports events, and done tributes to the Negro National Anthem at political (State of the City Address) gatherings. But more importantly are the strides she takes to learn the industry she seems unable to run from. "You can learn to master your craft through those who have mastered there's." The world should get ready for this dedicated performer. Her sound is undefined. Her look is captivating. Her energy is awe-inspiring "Every day is an experience. Every Lesson a song. And if you learn to see through the eyes of a soul, you'll never be lost for words."
Share: