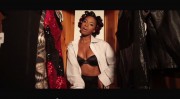 Anolique's 1st official music video has been released and is trending online. Witness A vice of raw emotion and a life with so many possibilities, Anjolique found her key to self and expression through a collection of trials and its experiences.
Coral Springs, Florida, March 28, 2015 (Newswire.com) - On March 25th, 2015 Anjolique fulfilled part of her dream when her label, Pantheon Elite Records released her first official music video to the world. Anjolique's new hit single Pick Your Poison was released earlier this year and the much anticipated music video for the single has finally arrived.
The music video for Pick Your Poison is based on her past experiences and passion for living. The music video was directed by Chinedu Ernesto. The director of photography was Levar Peters and the video was filmed on location at Afflux Studios in Wellington, Florida.
The Pantheon Of Musical Gods is being established right now!

Billy Carson, Chief Operating Officer
​You can watch the video on YouTube, and the link is provided in this press release. The Pick Your Poison music video has been submitted to MTV, VH1 and Music Choice for consideration. The video has also been added to the mobile application for Android devices. Since the release video four days ago it has received over 35,000 views.
Share: