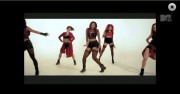 On Saturday March 28th 2015 the Pick Your Poison music by Anjolique was accepted to MTV's music video website and published on MTV.com.
Coral Springs, Florida, March 31, 2015 (Newswire.com) - A vice of raw emotion and a life with so many possibilities, Anjolique found her key to self and expression through a collection of trials and its experiences. "I am protected by music, entertainment, and the embodiment of the arts." Her music showcases a broad range of confusion on top of cluttered thoughts, party hits, and happy, love songs. ​
This is a huge step in right direction, as Pick Your Poison has received over 1000 video views in 4 days since being approved on the MTV.
The Pantheon Of The Musical Gods Is Being Created Right Now!

Billy Carson, Chief Operating Officer
MTV (an initialism of Music Television) is an American basic cable and satellite television channel owned by the Viacom Media Networks Music & Logo Group, a unit of the Viacom Media Networks division of Viacom. The channel itself is headquartered in New York City, and is a subsidiary of Viacom Inc. Launched on August 1, 1981, the original purpose of the channel was to play music videos guided by television personalities known as "video jockeys," or VJs. In its early years, MTV's main target demographic were young adults, but today, MTV's programming is primarily targeted at adolescents and teenagers.
MTV has spawned numerous sister channels in the U.S. and affiliated channels internationally, some of which have gone independent. MTV's influence on its audience, including issues related to censorship and social activism, has been a subject of debate for years.
As of February 2015, approximately 93,240,000 American households (80.1% of households with television) received MTV.
Share: